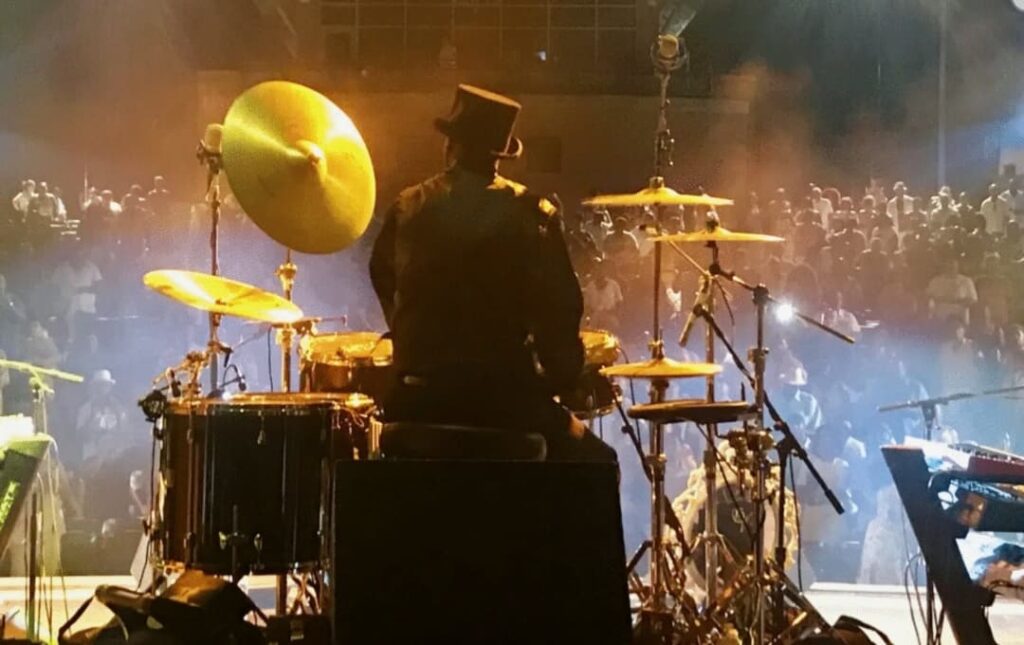 Jellybean Johnson is the the drummer of the Prince created band The Time. Jellybean is one of the architects of a unique blend of music that was created in Minnesota and called the Minneapolis Sound.
Jellybean's resume includes drummer/guitarist/writer/engineer/producer for both local and national talent including creating a number one pop song for Janet Jackson, "Black Cat." Billboard's Critic's Picks ranked "Black Cat" as Janet Jackson's best song of all time in 2017.
In 1980 Prince united members of Flyte Tyme, of which Jellybean was a member, and Grand Central to form the band, The Time. Jellybean has been their drummer ever since. The Time toured with Prince and went on to be the rival band in the film "Purple Rain".
Prince also formed a band called The Family using Jellybean as it's drummer yet again.
Jellybean also wrote, produced and played on many songs by nationally known artists during his time at Flyte Tyme Studios in Minneapolis including Patti LaBelle, Nona Hendryx, New Edition, Alexander O'Neal, Mint Condition, and the Human League.
As a guitarist Jellybean has lent his playing to many songs and recordings and plays nationally in the Blues circuit.
Locally, in the Twin Cities, you will see Jellybean most nights of the week sitting in with local artists and in his own band, The Jellybean Johnson Experience. The Jellybean Johnson Experience also presents several shows each year promoting and performing with up and coming bands and artists.
The Jellybean Johnson Experience put out a single in 2018 called "Put Some Jelly On It' and released another "Let Me Shine On" in 2019.
Jellybean is the recipient of twenty Gold and Platinum albums, Minnesota Music Awards, Minnesota Black Music Awards, and ASCAP Awards. In 2014 he was honored for his long time work as a drummer with a special Local Legends Award.
Jellybean's custom made suit jacket that he wore in the film "Purple Rain" was donated to the Minnesota History Museum securing his place in the history of Minneapolis music for all time.